You have been your child's guardian and advocate since birth for everything from education goals to financial decisions.
As your child becomes an adult, the nature of your parent advocacy can change. He or she must  begin to make these decisions. This process often starts during transition planning in school.
Legal Guardianship
A child reaching the "age of majority" (18 years old) is legally empowered to make these decisions. You and other family members can continue to serve as unofficial advocates, but your role will not have legal authority as it did when the child was a minor.
Before making a decision, look at all outcomes. When someone else has legal guardianship, your child is stripped of many rights, depending on the type of guardianship. The alternative, many parents reason, is to gain legal guardianship. In some cases this is appropriate, but in other cases it may not be.
Click here to see the types of guardianship.
Who to Talk to:
Discuss the pros and cons with other family members early to prevent disagreements. Try to gain agreement on advocacy to prevent confusion with service providers later.
Consult with an attorney specializing in cases for people with disabilities.
Get your child's input about how he or she wants to be supported. Your child's opinions should be respected.
Before Making A Decision On Guardianship, Consider:
Your child's cognitive level and ability to understand the consequences of decisions
The way in which your child communicates wants and needs
Your child's feelings about making decisions and receiving assistance
The natural supports and formal resources already available to your child
How To Advocate For A Person With A Disability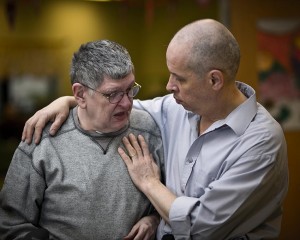 The decision about how best to advocate for a person with a disability will vary, depending on circumstances. It also may change over time.
The decisions should include:
What help to give. Although families will not be able to predict all possible needs for advocacy, they can come to some general consensus about what types of situations will require help. This may be as simple as deciding that parents will help only when the individual requests assistance. Or perhaps, the parents will decide only to assist with major issues, such as medical needs or support services.
Who will help. Parents may want to act as the primary advocate for their child as long as they are able. But some parents have made the decision to let other family members step in for certain issues.  For example, a sibling who works in the medical field may act as an advocate with medical issues, but leave financial and other issues up to the parents.
How to help. This critical decision impacts the self-esteem of an individual with a disability. Well-intentioned family members can create frustration by speaking for a person or by getting involved in matters where the individual is already comfortable. To avoid this, parents may decide to postpone major decisions at meetings or work out a "sign" their children can give them, allowing the parents to speak for their child.
One of the best tools families have is to link to local advocacy groups. These may include organizations such as The Arc or disability specific groups such as The Upside of Downs.