The Right Neighborhood
Once you've set a budget, found a real estate agent, and secured at least pre-approval for financing, the next step is to find the right neighborhood.
The right neighborhood will be one that strikes the best balance between being close to all the things the residents and families consider important and including necessary and desired amenities such as parks, entertainment, and so on.
Neighborhood Acceptance and Zoning
In your search for the right property, it's important to keep in mind the neighbors your child and his or her housemates will be living near. Legally, everyone has the right to live in the community of his or her choice.
The Fair Housing Act prohibits the exclusion of people with disabilities and gives cities the responsibility to adapt their regulations, so that people who have disabilities may use and enjoy the residential property of their choice.
Courts have backed up the Fair Housing Act.  Even so, many people with disabilities have encountered resistance.
Most neighbors voice complaints about a home for people with disabilities by referring to zoning laws, which regulate and control the use of private property. For example, property is zoned according to intended use, such as commercial or residential, and also according to the number of unrelated people who can live in a single-family unit. Opponents to housing for people with disabilities often focus objections on these two zoning matters.  The city may send registered letters to neighbors to inform them if the consortium is making a new zoning request.
Meet and Greet?
Differences of opinion exist about the best approach to prevent resistance.  Some parents and providers have met with neighbors in advance to introduce themselves and explain the plans for the home.  Others question this approach, because it may be perceived as asking permission, and because non-disabled people never have to introduce themselves in this manner. Your realtor, lawyer, or housing corporation may be able to give you insight on the best way to move forward with your child's chosen neighborhood.
Zoning Considerations — Limit and Prepare for Resistance
To limit and prepare for resistance, you should do the following with your realtor's help. This is especially important when buying a property:
Learn about the zoning classification for the property by calling city hall, township zoning boards, or the county;
Know what the property classification means. Cities may have different definitions of family or business use.
Consider sending a letter to city officials (mayor or township trustees) after the home is purchased to offer basic information about plans, but not to ask for approval.
Request a variance or make a conditional-use claim, if there is a question about zoning.
Be prepared for the zoning process to take 2–3 months and involve at  least two meetings.
Consider taking an option on a house, which requires a nonrefundable fee (usually about $1,000), giving the option to withdraw an offer within an agreed period of time until you can investigate zoning and the neighborhood's reactions.
Prepare to go through the building or planning department for any renovation or rehabilitation of the property, a process that may also include architectural review.
Dealing with Resistance
If resistance from neighbors or problems in the zoning process occurs, you should:
Always provide accurate information to local officials.
Share and hear information without taking offense.
Attend meetings only if you can handle the scrutiny; consider going as a group or with an advocate.
Look for supporters in the neighborhood. Resisting neighbors do not want to hear from supporters who live across town and outside their community.
Get an attorney involved, so that if the dispute ever has to go to court, important information will be in the public record.
Have the attorney present legal opinion on zoning rules, explaining why the home can legally be developed.
Zoning issues and neighborhood resistance are good reasons to use a housing corporation as they are experienced in these matters.
Accessibility and Support Staff Accommodations
Accessibility
An accessible home, or one that can be made accessible, will be more appropriate and functional for your child, future tenants, their families, and visitors. Additionally, such features increase the amount of potential housemates if one leaves. Examine each potential property closely to determine how much modification is required for the needs of the residents.
There are no federal building accessibility requirements for single-family residential settings.  So, it is often very difficult to find a home that is accessible or can be modified.
Accessibility Design Definitions
It is less expensive to add these features as a home is being built or renovated than to add them later. Prioritize features to account for renovations in your budgets.Accessible:  A home with permanent features that accommodate people with disabilities.  Examples: Wide doorways, halls and baths for wheelchair access; lower countertops; grab bars in the bathroom.
Adaptable:  A home where accessible features can be added or removed easily.  Examples: Reinforced walls to which grab bars can be added; countertops with adjustable supports.
Universal Design:  Refers to features necessary for people with disabilities that can also be comfortably used by all people. All spaces are useable by people with disabilities. Examples: Lowered light switches; levered doorknobs.
Visitability:  Features that allow guests with disabilities to enjoy the housing, as well as allowing the resident to remain in the home over time as physical needs change.  Example: Doorways wide enough to accommodate potential future wheelchair use
Funding for Modifications: Check your county board, local housing coalitions, and disability support groups for available funds.
Accessibility Features to Consider
Adaptable or universal design features are most practical, because residents may need them as they grow older.
This list offers ideas for possible accessible and adaptability features. Consider the residents' needs, future needs, and budgets.
Overall Structure:
Level entryway or steps free of obstructions and short enough to ramp
At least one bedroom and bath on the first floor
An emergency exit from each bedroom
No steps or abrupt changes on the main floor
Thresholds with a maximum height of a half-inch
Doorways with a width of 36 inches
Hallways of 42–60 inches wide
Easily operated window controls 24–28 inches above the floor
Out-swinging doors
Non-slip floors
Low-pile carpet with thin padding
Grab bars attached to the studs in the walls
Bathrooms:
Hand-held or adjustable shower head
Bathtub with nonskid strips or surface
5-foot clearance area in the bathroom (so a wheelchair can make 360° turn)
A roll-in shower without a curb
Toilet seat 17–19 inches from floor or a wall-mounted toilet
Lever hand faucets
Kitchen:
Kitchen large enough for wheelchairs, such as an open, U-, or L-shaped area
Various heights for countertops and cabinets
Lever hand faucets
Electrical/Lighting:
Chair-height doorbell and mailbox (48–54 inches)
Chair-height electrical outlets and light switches (in general, switches 6 inches lower and outlets 6 inches higher than standard)
Chair-height telephones and phone jacks
Large windows, overhead lighting, or several outlets in each room for better lighting
Large push-button phones
Audio and visual smoke/security alarms
Storage:
Shallow shelves, no more than 18 inches deep
Built-in cabinets with a 6-inch baseboard recess
Adjustable shelves and hanging rods in the closets
Appliances:
A front-control-operated range
Side-by-side refrigerator with water/ice dispenser
Front-control-operated, built-in dishwasher
Front-loading washer and dryer
Accommodating Congregate Living & Support Staff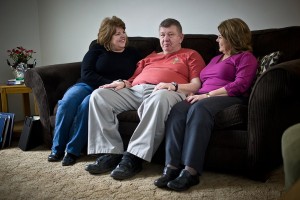 In addition to accessibility when looking at properties, consider the needs created by the unique combination of housemates and support staff.
Group Living Space: Questions to Ask
Does the home have at least one and a half baths?  Multiple residents, support staff, and visitors will make use of these facilities.
Is there more than one common area for visiting and recreation?  These rooms can accommodate private visits with friends and family and recreation simultaneously.
Are bedrooms separated enough to prevent disturbing other housemates?
Is the kitchen large enough for several people to work in at the same time?
Is there adequate storage space? Including space for personal items for each person sharing bathrooms, closet space in bedrooms, and additional household storage.
Is there space to have visitors or support staff sleep over? [INSERT IMAGE: Wheelchair accessible van]
Parking & Vehicles: Questions to Ask
If there is a van, is the garage large enough to accommodate it?
If a vehicle with a wheelchair lift will be used, is there enough space close to the main entrance to operate the lift?
Is parking adequate for residents, staff, and visitors?  At least 3 unrestricted parking spots outside of the garage are advisable, so that staff and visitors can arrive and leave without blocking other cars.
Are there city parking restrictions? Example: at night or during a heavy snow
Can residents board program vehicles in a drive or will they need to board in the street? This may involve a call to the transportation provider.
Safety Considerations
When developing a home for more than one individual with disabilities, you need to think through the safety of the tenants in the home. Even if the home meets accessibility needs, residents may have a diminished capacity to recognize dangerous situation and/or take measures to avoid or get out of dangerous situations.
If you develop a home for persons other than your own child you will be held to a higher legal standard.
Look for the following features on the house hunt.
Working smoke alarms. Hard-wired alarms with battery backup are recommended.
2 unobstructed exit points from each bedroom.
Ease of evacuation from both the home and neighborhood in case of emergency (fire, natural disaster, weather, etc.)
Other safety features required by the city or zoning rules.
Types of Houses
Single Family Detached
Provides the most family-like setting.
Offers the most privacy, space, and security.
Maximum consumer control, but the cost of this control is the sole responsibility for upkeep of the property.
Apartments & Duplexes
Can be rented from a third party.
Alternatively, can purchase a building and then rent individual apartments to others.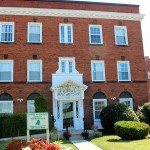 Purchasing a Multi-Unit Building: The Advantages
Individuals living in separate apartments enjoy more privacy and autonomy than in a single-family home.
Parent ownership allows for more flexibility in use of the building and decoration of individual units.
Renting to others can offset the cost of ownership.
Renting to other people from the community can provide for a more integrated setting.
Considerations before Buying a Multiple-Unit Building
The investment to set up the housing and maintain the building is significant.
Insurance for a rental property increases cost.
Renting to others increases the business complexities and makes establishing a legal structure critical.
Landlords must adhere to fair housing and other laws.
Tax consequences accrue to the additional rental income.
Sharing support staff with people in separate living units may not be possible, depending on individual needs and funding regulations.
Condominiums
Primary advantage is that they have the benefits of ownership without most of the burdens of exterior property maintenance.
Condominiums also may be less expensive than single-family homes and may include amenities such as recreational areas.
Considerations before Buying a Condominium
Additional housing association expenses may be added to the monthly fee.
Restrictions may be placed on alterations, decoration, and use of individual units.
The condominium association may have periodic assessments for improvement to or repair of the common property.
There may be restrictions on support staff, such as parking regulations or limitations on distributing keys to the building or unit.
Cooperatives and Co-Housing
Does not involve the direct purchase of a typical housing unit.
Co-housing and cooperative housing provide the personal and economic benefits of ownership, as well as the social benefits of community membership.
Some models focus on a particular group of people with similar needs or interests.
A housing cooperative is a group of people organized for the purpose of owning, building or renovating housing for its members.  The group incorporates itself and owns all property, as provided in the articles of incorporation and bylaws.  A member (shareholder) does not own his or her dwelling unit, but owns a membership certificate that entitles him or her to occupy a dwelling unit and to vote in the operation of the corporation. All decisions affecting the cooperative are made democratically. Housing cooperatives are often eligible for financial assistance or low-cost loans from the government.
Co-housing is a special form of cooperative housing. A separate entity owns the property, and individuals own a share of that entity. Usually the community includes a number of individual units clustered around a common space, large enough to accommodate all of the members. Community life revolves around this space, including meals and group activities.  Because every co-housing organization approaches community in a unique way, there is no specific model.  Funding can be problematic for new groups, and in some areas they are not legal. Nevertheless, the potential of these communities to increase the inclusion and empowerment of people with disabilities may make them worth exploring.
Potential Repairs and Upkeep
Lastly, once you've narrowed the list of potential properties, compare the amount of repairs and upkeep each property needs.
When Renting
Compare the maintenance policies of each property. Factor in any potential costs of maintenance or emergency repairs residents are responsible for.
When Buying
Find out if any home warranties are in place, and ask for records of renovations, repairs, and damage. Use these to estimate the cost of repairs and maintenance.
Get an Inspection
Before making a final decision, be sure to get a professional inspection. This will inform you of any structural, electrical, or plumbing problems. You can then use this in negotiations and when finalizing a budget for repairs.
WARNING — Unwelcoming neighbors will closely scrutinize this property and may use small repair/upkeep problems as evidence to support objections. Choose a house that makes maintenance easy.